Visual presentations:
1: Create networks and teams. Invite members
2: Accept team invitation as member
---
These are the steps to follow to create a network, connect teams and populate your virtual organisation.
Step 1: Create a company 
Click on "Create new Company"
Enter name of company
Fill out the company template
add image and description
enter location
add company social icons
Step 2: Create team
From the menu choose "Add Team".

Enter the name of your team.
Fill out the team template.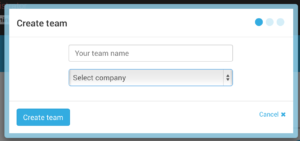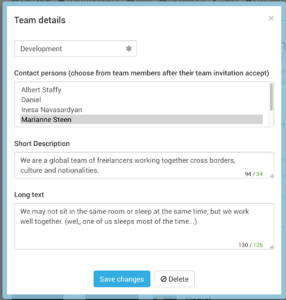 Contact Person for the team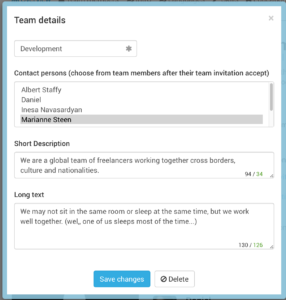 ---
Step 3: Invite team members
A team page is partly created from team members data partly from the team template.
Instruct your team members what information is most important.
1. Purpose of the team 
Team Owner tells team members about the purpose of the team
Team members get information about the purpose of the team and where their profiles will be shared
2. Collect specified content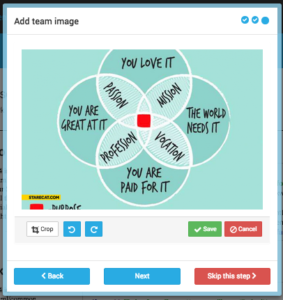 Team Owner decides what content is needed on the team page and selects it for the team invitation guide.
 3. Ask for specific skills
Team owner suggests skills.
Team members select the skills they match and add their level.
Skills already in the team members profile will be marked. >>
4. Ask for specific languages
Team owner suggests languages
Team member ads level
5. Help to write a bio/ introduction
Team owner ask questions or suggest what to write in the introduction text
Team Member write their introduction/ bio and/ or answers questions.
6. Ask for specific contact information
Team Owner decides what information is needed.
Team member fills out contact information.
7. Invite Team Members
Enter name and e-mail and a personal message.
To complete your team page, add team members. We recommend you use the team invitation guide that will help each team member to complete their profile faster.
Get the information you want via our Team Invitation Guide.
Add team members to your invitation list: Enter name 
and e-mail of people you want in your team.
Invitations are pending until accepted and your new team member is immediately visible in your team view.
Follow the Data Flow In
Team members get the invitation by mail.
You will get an alert when they join your team.
Manage Invitations
Send reminder mails
Aggregated member data
Data from profiles will be included in key numbers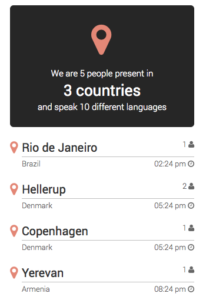 Activate/ Deactivate / Delete profile from team
Drag and drop to rearrange order of profiles