On Linkedin profiles are like silos. Each person keeps their data in an isolated compartment. To share your data or to get access to another persons data, you have to first take data out of Linkedin and then find a method to share data in respect of GDPR.
You can use Prodii to do exactly this!
From Linkedin you receive your data in csv-files and these csv-files can easily be imported to your profile on Prodii.
The procedure has 3 steps and takes 2 minutes of your time (delivery time from Linkedin to your mail box is not included):
Order your data archive from Linkedin (2 minutes + 10 minutes waiting)
Download the data archive by email (zip-file) (2 minutes)
Upload the zip-file to your Prodii account (2 minutes)
This is our guide on how to move your data from Linkedin to your  Prodii profile.
---
I: Order data archive from Linkedin:
1: Log into Linkedin: open your personal menu ("Me") and select Settings & Privacy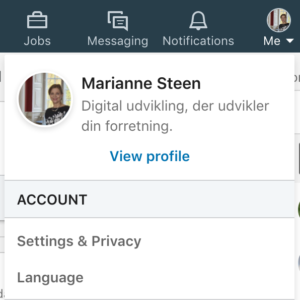 2: From the Privacy Tab: Select "How Linkedin uses your data" and click on Download your data

3: Click Pick and choose + Profile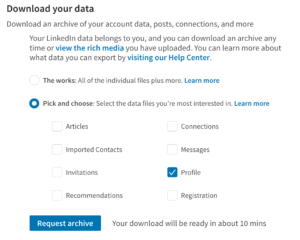 This will give you your data for your:
positions
educations
languages
skills
profile (personal introduction)
---
II: Log in to your email account
(the one you use for your Linkedin Account) and await the email with a link to your zip-file:
1: From the email click the download link – you will be redirected to your Linkedin account
2: Click the button Download Archive to move the Basic_LinkedinDataExport.zip file to your desk.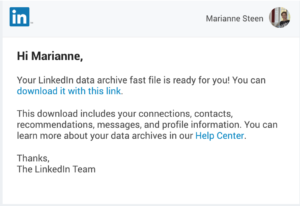 ---
III: Import data archive to Prodii:
1: Log in to your account on Prodii.
2: From your personal account go to Import Data from Media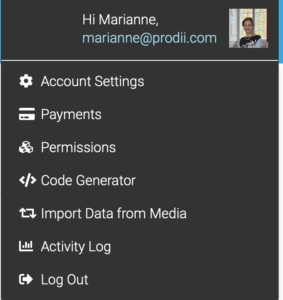 3: Click on the icon for Linkedin CSV import to upload the zip-file to your Prodii account:
Select the Basic_LinkedinDataExport.zip file from you desk and upload!
By importing from the LinkedIn CSV-file, you will add data from LinkedIn to your Prodii data pool. Just import the specific CSV file unchanged, and Prodii will take care of saving it to the right fields. Note that you can select either the zipped file or specific CSV-files.
Now go to your Personal Profile: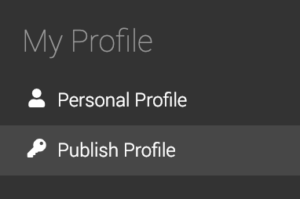 Scroll down to each content widget;
First time (your widgets are empty),  the data will be shown in your profile instantly.
Next time (you have content in your widgets) from the data import layer, select the data you want to add to your profile: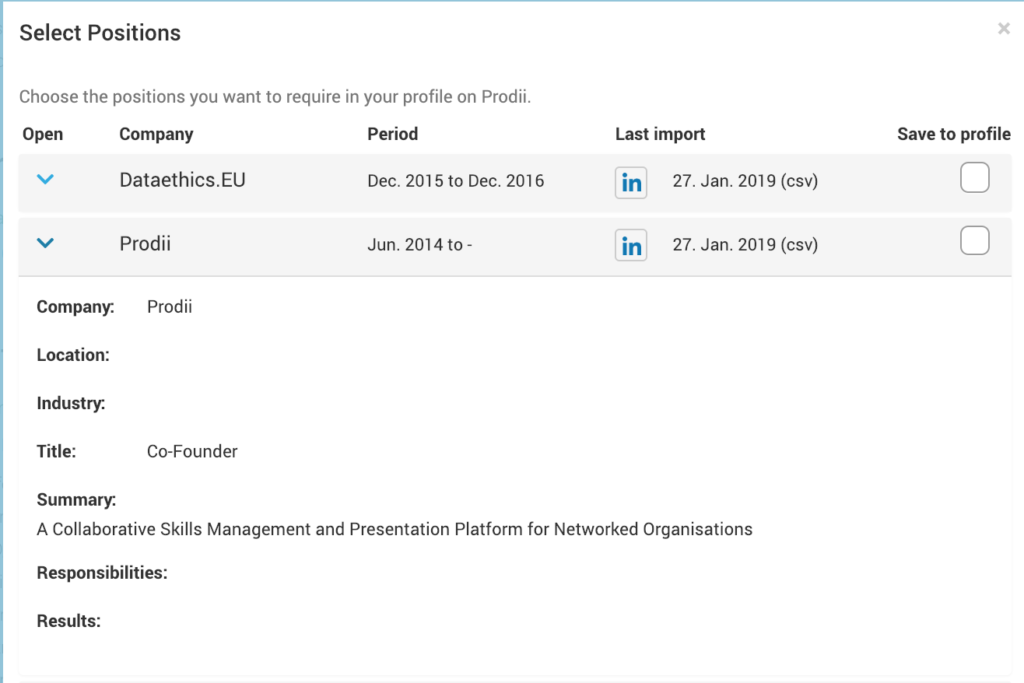 Done! This is how you can keep the content in your prodii profile up to date and in sync.
Bonus: Now you can share your data on Linkedin within your teams and networks.